Ragamuffin Road Performers
You may soon realize that Cowtown Celtic Festival is still a work in progress. As such, things are liable to change as we go along. The first significant change is that what we initially called Urchin Street, after the similar area at NTIF, will now be called Ragamuffin Road. We have done this to give it a new identity, and one specifically for our Fort Worth guests. So, welcome to the Ragamuffin Road performers.
John Burleson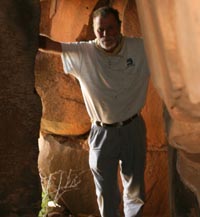 John Burleson has been performing in Texas since the mid 80's and is a veteran of all but the first NTIF. Storytelling appearances include Texas Folklife Festival, Ohio Renaissance Festival, Mississippi Celtic Fest, many school, library, concert and club dates in Ireland and Ontario and finally back in his home town at Cowtown Celtic Festival.
His love of the spoken word comes from a lifelong attraction to folklore and mythology.
Cór Gaeilge Texais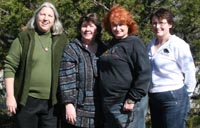 Singing in the old-style, unaccompanied, traditional manner, Cór Gaeilge will entertain you with catchy tunes and haunting melodies. Cór Gaeilge Texais performs traditional songs in Scottish Gaelic and Irish (Gaidhlig agus Gaeilge). Established in 1997, the group regularly appears at festivals in Texas and the surrounding region. The repertoire explores all aspects of life from church to tavern, dandling babies to rousing marches, love songs to work songs, and dances to dirges. The group consists of Denice Brown, Jonquele Jones, Michelle Kelleher, Vicki Morris, and Marie Paddock.
Calamity Holler'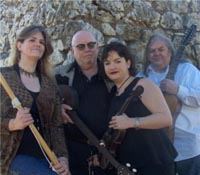 You have traveled thru another dimension, followed sight and sound with Calamity Road. It's led you to your final destination! There's the signpost up ahead! You've just crossed over to Calamity Holler'!
Yes, coming to the Cowtown Celtic Festival. A disruption of of the very fabric of reason is set to occur. The band Calamity Holler' will assail your senses with a program ranging from Celtic Ballads to Appalachian Folk Songs to Country Tinged Rockabilly! We invite you to stop, listen, clap your hands and stomp them feet with us before sanity returns you to the mundane. Who is Calamity Holler'? Vince Cole: Guitar, Banjo and Vocals; Maggie Drennon: Fiddle and Vocals; Jen Harrison: Dog House Bass, Gutbucket Bassm and Vocals; Rogan Muldoon: 12 String Guitar and Vocals.
Caitlin Daniels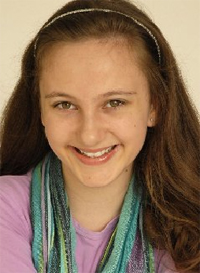 Caitlin is the recipient of the 2010 "Byron D. Cameron Music Scholarship" presented by the Southwest Celtic Music Association. Over the past year, she has been awarded 1st place for vocals/overall music in numerous countrywide Irish competitions, performed as a solo artist in the Dallas City Arts Festival, played "Louisa" in the Casa Manana production of "The Sound of Music", and competed in the preliminary champion level in Irish dance. She has also recently toured Asia as "Brigitta" in the Broadway Asia production of "The Sound of Music". She is currently a student of The Emerald School of Dance and aspires to be a future member of the vocal group "Celtic Woman".
Don Gabbert
Don Gabbert has been called "The Voice of the West Texas Celts". A singer and songwriter he has shared the songs and stories of Ireland and Scotland across the Southwest.
As a proud first generation Irish-Texan Don entertains young and old alike with his very personal perspective on the Irish in Texas. And as such he inspires his audience to join him in cheering, "Tejas Go Bragh"!
Killavil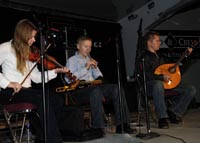 Recently arrived on the Irish music scene, Killavil is a group of young musicians with an unwavering dedication to the Traditional Irish Music. They have performed at festivals, clubs, and pubs, across the United States, England, and Ireland. Killavil focuses on traditional music originating from the Galway and East Clare regions of Ireland. The band consists of Michael Stribling on the uilleann pipes, tin whistle, and flute, Rachel Stribling on the fiddle, and Daniel Stribling on bouzouki, bodhran, and keyboard.
October Country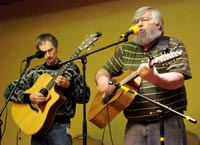 Originally a trio, October Country was formed in 2001 when Shaddow Walter (lead guitar), Amy Riewe (guitar/vocals/ mando) and Casey Sledge (guitar/vocals) decided it was time. When Amy left to form Brendana's Dream, the duo continued, with guest stints from musical friends including most of Spriggan.
October Country plays traditional Scottish and Irish ballads; American and Canadian folk; children's songs and filk. They have performed throughout the DFW Metroplex (Plaza Pub, Dunn Brothers Coffee, FenCon, and the North Texas Irish Festival and more) and in January 2010 were Interfilk guests of honor at the Conflikt music convention in Seattle WA.
Sarah Dinan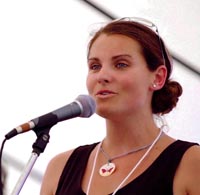 Music that is fun, family friendly and anything but boring! Sarah is a seasoned Celtic/Folk musician and she brings her critically acclaimed voice and love of storytelling to music for children and the adults who love them. In her children's shows, Sarah draws from her experiences as an educator, musician, performer and camp counselor to create an engaging, entertaining program the entire family can enjoy.
Her interactive shows feature songs and stories to get bodies moving and help little ones learn about their world. They include a variety of folk, traditional Celtic, silly story, call and response, sing along and original songs. Children are encouraged to dance and sing as the music inspires them. Sarah is joined by Alexis Buffum on fiddle, Dana Martin on guitar and Nick Mitchell on drums and percussion. She and her band are a tour de force that performs a diverse repertoire of songs and tunes from around the globe.