Dance Performers
McTeggart Irish Dancers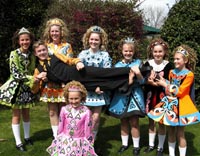 The McTeggart Irish Dancers perform throughout the North Texas area, and compete against dancers from all across the United States when they attend a feis, traveling to such cities as New Orleans, Houston, Denver, Oklahoma City, Austin, and San Antonio. Qualifying students also compete at the Southern Region Oireachtas, the North American Nationals and internationally in England and Ireland. Students of all ages are welcome to join for instruction in both competitive and non-competitive dancing.
The McTeggart School of Irish Dancing was established in 1939 in Cork, Ireland. The first director was Peg McTeggart, the eldest of four sisters, all of them champion dancers. The school soon spread throughout the whole of County Cork due to the efforts of younger sister Maureen McTeggart Hall, TCRG and ADCRG. In 1958 Maureen McTeggart Hall and her family immigrated to the United States, bringing with them the art of Irish Dancing and introducing it to the Western Region of the United States.
Maureen McTeggart Hall began teaching in Denver in 1976 and has built one of the most respected schools in the nation. McTeggart schools have consistently qualified dancers for the World Championships in Ireland and proven to be a top school in competitions. A past chairman of the Western Region, Maureen McTeggart Hall is a vice-president of the Irish Dancing Commission and has adjudicated at the North American and World Championships. Other McTeggart schools are located in Alaska, Colorado, Arizona and Oklahoma as well as Texas.
Shandon School of Irish Dance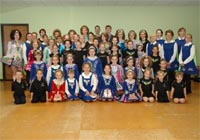 Instructor Kay Brown LaGreca T.C.R.G. began dancing in County Cork, Ireland at the age of five. After moving to Texas, she grew to love Irish dance under the instruction of Emily Touzin. She continued to dance with Emily until she met Eoin O'Maoileidigh in April of 1994.
Kay attended her first competition under Eoin in June of 1994 and swiftly began to work her way towards championship levels. In March of 1995, after less than a year of dedicated practice and class time, Kay entered her first preliminary championship competition where she won third place. She continued competing successfully for the next three years during which she won the Southern Region Oireachtas and qualified for Worlds.
In January of 1998, Kay's beloved teacher Eoin moved back to Ireland and left the school to Kay. The school was supported by Colm O'Maoileidegh until Kay became certified in October of 2001 when it became known as as the Shandon School of Irish Dance and has enjoyed many successes over the years including regular recalls and qualifications for Worlds at the Southern Region Oireachtas and recalls and placings at the North American Irish Dance Championships. Shandon is proud to announce the success of Jason Hickman in placing 3rd in solos and Qualifying for Worlds at the 2010 Southern Region Oireachtas. The Shandon School of Irish Dance also currently holds the titles of Southern Region Champions in the Adult Ceili Mixed and Ladies 8 hands.
North Texas Scottish Country Dancers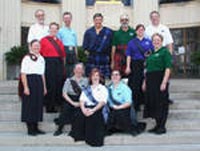 Scottish country dancing is fun and only occasionally danced competitively. We leave the competing to the Highland dancers who dance the familiar Highland Fling and the Sword Dance as well as many lesser-known Highland dances. Scottish country dancing is the social and ballroom dancing of Scotland, with roots stretching back for centuries. The national dances of Scotland were not confined to one level of society only. On the contrary, they were danced and enjoyed in common by both laird and tenant or crofter. As the Clan Chief did, so did all his followers and family.
You don't have to be Scottish to find your foot tapping to the irresistible rhythms of our stirring reels, jigs, hornpipes, and lilting strathspeys. The music, the footwork and the formation sequences set Scottish Country dancing apart from the national dances of other countries. The winding figures of the dances are reminiscent of the interlaced knot-work of Celtic origin, and they allow each person to dance each position in turn. Although many of our dances are centuries old, new dances are continually being devised which makes our favorite pastime a living art form.
Lessons and social dancing are held most Friday evenings from 7–10:00 p.m. Labor Day to Memorial Day, at the YMCA, 7120 S. Cooper St., Arlington, TX 76001. Newcomers are most welcome. You need not be Scottish or wear a kilt. You do not need to come with a partner. Find out for yourself how enjoyable SCD can be. The North Texas Scottish Country Dancers are available for performances.