National Performers
Brian McNeill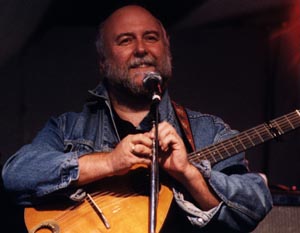 This year Brian McNeill celebrates the 40th year of a career that has established him as one of the most acclaimed forces in Scottish music. Brian has been described as 'Scotland's most meaningful contemporary songwriter' (The Scotsman); add to that his work and influence as performer, composer, producer, teacher, musical director, band leader, novelist and interpreter of Scotland's past, present and future and you have a man who has never stood still. He has performed around the globe, both as a soloist and with some of the era's most influential bands, including Battlefield Band, which he founded in 1969, and Clan Alba.
Brian was born in 1950 in Falkirk and began his musical training in his early teens with violin lessons, but soon forsook that for the electric guitar. There followed a comprehensive musical education and mildly misspent youth ­ until his student years brought him to Celtic music. As a direct consequence, in 1969 he formed the Battlefield Band, which became one of Scotland's best known ensembles.
Brian plays fiddle, octave fiddle, guitar, mandocello, bouzouki, viola, mandolin, cittern, concertina, bass and hurdy gurdy. The importance of his songwriting, mostly about Scotland's past and future, has long been recognized. Songs including The Yew Tree, The Lads O' The Fair, The Snows of France and Holland, Strong Women Rule Us All With Their Tears, Any Mick'll Do and No Gods and Precious Few Heroes have established him as one of Scotland's leading songwriters.
His continuing connection with America's Lone Star State led to him being created an honorary Texan by the then Governor George W. Bush. For six years he was Head of Scottish Music at the Royal Scottish Academy of Music and Drama.
James Keane & Jeff Moore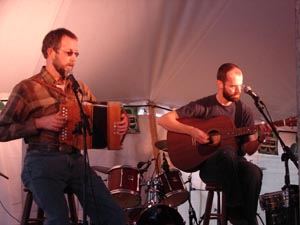 Dublin native James Keane is one of the earliest innovators to create traditional Irish styles of button accordion. His contributions are really to the overall art of European button accordion playing, and this was recognized by the committee to celebrate Dublin's designation as a Cultural Capital of Europe. His hometown flew him back from New York City where he has lived and performed for more than forty years. He appeared as one of the featured artists in Dublin's historic celebration, and demonstrated how his musical has been to translate traditional Celtic musical technique onto Europe's great bellow acoustical instrument.
James is also a shanachie and folk-historian known for his extensive memory and the spell-binding preludes he speaks before playing his spiritually possessed music. Keane's artistry is his constant conjuring back to life of those great Irish tradition-bearers. He has lectured and taught many classes on the source music at colleges, retreats and on tours of Ireland.
Jeff Moore was introduced to traditional Irish music in 1995, when he met Texas Irish flute player Larry Rone. From that point on he began to make a study of traditional Irish music generally and more specifically he focused on what the great guitarists like Arty McGlynn, Michael O'Dohmnaill, Daithi Sproule and Paul Brady were doing to back the music using alternate tunings like DADGAD. Encouraged to pursue an instrumental involvement with the music, Jeff began to collaborate with Irish fiddler and friend Michael McCullough and also became a regular at Austin tune sessions, during which time he developed his own unique style of accompaniment.
Over the years Jeff has had the opportunity to perform with some of the Southwest region's top players. A founding member of the high energy Texas Irish band Cluan, Jeff has also performed with regional bands such as Carey Street, The Sarah Dinan Band, Poor Man's Fortune and continues to perform in a duet with fiddler Heather Gilmer. Jeff has also had the great pleasure of accompanying international artists such as Joe Burke, Johnny B. Connolly, Jerry Holland, James Keane, James Kelly, Brian McNeill, Ed Miller, Mick Moloney, Mark Stone, John Taylor and John Williams.
Arvel Bird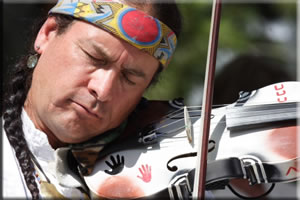 Born in Idaho, and raised in Utah and Arizona, Arvel Bird showed early promise on the violin and attended Arizona State, but his career involved jumping many hurdles to become a professional musician. His first private music teacher in Salt Lake City saw his potential and taught him to play with passion. She also brought the magic of music to life teaching Bird about life, self-confidence, poise, walking, smiling, presentation, and a passionate performance.
As a college student, Bird blossomed under the tutorage of renowned Hungarian violinist Paul Roland at the University of Illinois. Initially seeking a classical music career, he was drawn to and inspired by the Appalachian, Bluegrass and Celtic styles in the Midwest.
Settling down in Ft. Wayne, Indiana allowed him to develop his own music style and a large and loyal following. In 1986 he joined Glen Campbell, touring worldwide with Campbell's band for six years. In 1991, he moved to Nashville and continued touring with Loretta Lynn, Louise Mandrell, Clay Walker, and others. He also built and operated a recording studio, engineering and producing thousands of songs and hundreds of albums for clients all over the world when not on the road.
His real dream was to record and perform his own music using the violin as a lead instrument ­ completely contrary to the Nashville view of the fiddle as a backup or side-musician instrument. The result was a blend of his Celtic and Native American roots that are uniquely his and intricately woven throughout his songs.
Considered to be one of the hottest Native American artists on tour today, his continuously evolving music is delighting audiences worldwide. His latest album, Ride Indian Ride, that will debut at the Colorado Indian Market in January 2010, is a departure from his more traditional cultural music, with an edgier blues/rock sound that blends his Native American/Celtic roots with a stronger, more soulful sound.