Featured Performers
BEHAN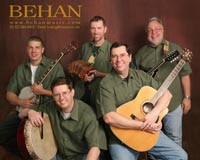 It is now over years since the debut appearance of BEHAN in February, 2000 for a Behan family party, the birthday celebration of twin siblings John and Helen at the Tipperary Inn in Dallas. This is fitting because BEHAN is all about family.
For years Jim and Dorothy Behan, proud parents of thirteen children and fifty-plus grandchildren, had celebrated Irish song and dance in the comfort of their loving, Catholic home. From this background emerged BEHAN, and the project has evolved to include Barney, Michael and Joe Behan, with Joe Morris and Rusty George. Bring your "sing-a-long" voice for a rousing round of fun, laughter, traditional Irish music and song.
Beyond The Pale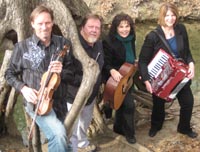 Beyond The Pale delivers a wild musical ride outside the boundaries of convention. Grounded in the traditional roots music of the Celtic nations and Europe, the band will whisk you on imaginative adventures across musical borders. Expect the unexpected as Beyond The Pale blends fiddle, flute, hammered dulcimer, accordion, guitar, saxophone, whistles, concertina, percussion and distinct vocal styles to deliver an entertaining mix of well-crafted original songs, "celticized" versions of contemporary songs from Americana favorites to Texas Swing and rapid-firing jigs and reels!
Beyond The Pale have been featured at concerts and festivals for 15 years, and have recorded six CD's, including their latest, Paleontology, just released at this year's North Texas Irish Festival.
Celt Iberia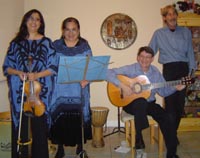 Celt Iberia takes its name from the pre-Roman people who inhabited the northwestern regions of Spain, Galicia and Asturias, the Iberian Celts. The group performs the traditional musical forms, including the lively muneira (jig), the soulful alala, the pandeirada (tambourine songs), xotas, and fandangos galegos. Lucia sings the songs in not only in Spanish, but also in the native dialect of Galego. She also provides exciting rhythmic accompaniment with tambourines and castanets. Valdemar's guitar provides the lead melody and rhythmic accompaniment, and his zanfona (hurdy gurdy) adds a truly medieval flavor to the mix. Garrett brings his flute to bear on the melodic lines, while Maria Dolores rips up the forms on the violin and mandolin, and provides harmony to Lucia's vocals. Add to this more percussion, including the snare drums and dumbek and the sound is at once traditional and contemporary.
5 Second Rule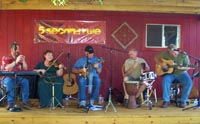 5 Second Rule is the newest Celtic acoustic band in D/FW. Performing both traditional and original material, their eclectic blending of Celtic with other styles such as bluegrass and cajun have had local audiences raving over the past two years.
Their lineup features Michelle Feldman (fiddle), David Lovrien (whistles, sax, keyboards), Mike Tidwell (guitar, bouzouki), Paul Dryer (mandolin, guitar) and Rick Holt (drums). All the boys join in for vocals.
Fort Worth Scottish Pipes & Drums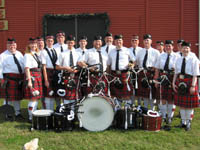 In 2000, the Fort Worth Scottish Pipes & Drums (FWSPD) formed out of several pipers and drummers in the Dallas/Fort Worth area that wanted to put an emphasis on furthering the music and culture of Scotland. With a deep respect for the music of the Great Highland Bagpipes, the style of Scottish pipe band drumming, the world of pipe bands, and the culture of Scotland, FWSPD strives to entertain and educate the public in these areas. FWSPD has played at several types of events to lend a little Scottish flair, including previous engagements such as parades, pub crawls, memorial services, Kirkin' o' the Tartan, Burns' Night, weddings, funerals, and corporate events.
Gary Whitaker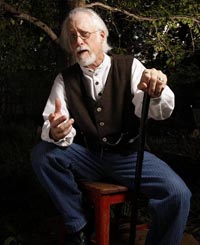 Storyteller Gary Whitaker, The Storyman, is a lover of the Irish and Scottish Folk tales and legends. Whether he is telling a folk tale like Eachann's Bull or a faery legend about the Good Folk and their mischievous ways or a tale about matching wits with a troll he will bring the stories to life with charm and wit.
Gary tied for 2nd place in the 7th Annual National Irish Storytelling Contest held in Bourne Texas 2008. Gary has been performing in the children's area at the North Texas Irish Festival in Dallas for over 5 years now. Be sure not to miss the Storyman.
Irish TIMES Band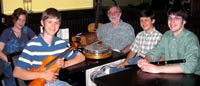 Players from three different generations make up the Irish TIMES Band, an ensemble that promotes the learning and playing of Irish music through programs of the Traditional Irish Music Education Society or TIMES.
Based in the Dallas area, the five players are also members of the Trinity Hall Session Players where they perform together as well as their bands Flashpoint, Jigsaw and Shift. The players include Emily Bryant on guitar and vocals; David Mehalko on fiddle; Ken Fleming on button accordion, mandolin, tenor banjo and vocals; Daniel Mehalko on tenor banjo, mandolin, whistle and bodhran; and Joseph Carmichael on flute, whistle and guitar.
Jiggernaut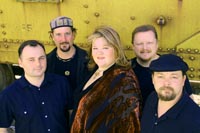 Jiggernaut is not your typical celtic band, nor are they your typical rock band. Jiggernaut is a powerful combination of Celtic, rock and folk music. Drawing from years of experience playing rock-n-roll, the rhythm section lays down a solid foundation allowing the bagpipes and vocals to soar. Passionate, energetic and always fun, Jiggernaut appeals to audiences from six to sixty, their tunes and songs tell ancient stories and teach lessons of today's world, in a style entirely their own. What is Jiggernaut? Celtic musicians with a rock sensibility? Rock musicians with a Celtic sensibility? You be the judge...
Liz Covington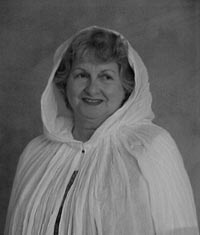 Elizabeth 'Liz' Covington is an active member of several Celtic organizations, and has been with NTIF, the Austin Celtic Festival, and the Celtic Heritage Festival for the past 6 years.
She is also an active member of the Tejas Storytelling Association and the Tarrant Area Guild of Storytellers as a Storyteller/Oral Historian. She preformes at Schools, Museums, Retirement Centers, Civic Clubs, Libraries, Festivals, Stories Under the Stars, teaches storytelling, and leads Ladies retreats.
Needfire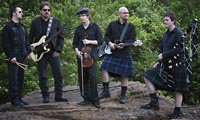 Needfire is one of today's most distinctive and original bands blending soaring bagpipes, reeling Celtic fiddles, and tribal didgeridoo with killer songwriting, blues rock guitars, and a rock n' roll backbeat. Since 2005 these Texas-based Celt-rockers have headlined some of North America's largest Celtic and arts festivals. Currently the band is touring the U.S. and Canada in support of their latest CD "Chasing Orion".
Needfire's high-spirited, powerhouse live shows and original sound are praised by music fans of all ages and critics worldwide. "With the new album Needfire has proven that they belong to the top acts of Celtic rock" (FolkWorld, Germany); "...furious toe-tapers that owe as much to the Beatles as to Celtic music" (Ink 19); "...just at ease in the rock songs as in the ballads, Needfire is fresh and explosive!" (Highlands Magazine, France).
Poor Man's Fortune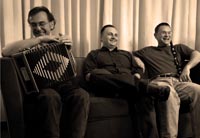 Poor Man's Fortune is North America's leading performer of the music of Brittany. This region of Northwestern France boasts Europe's largest traditional music scene, rivaling that of Ireland and Scotland. The Breton music tradition embraces a range of styles from the pure-drop traditional to the intensely modern. Poor Man's Fortune embraces all these schools.
No fairy tales, just fiery tunes that happen to be a century or so older than your average hip-hop jam, arranged for modern ears and played on traditional instruments with verve and exuberance. Dance music, Real music that's been around awhile but still sets toes tapping.
Rebekah Passmore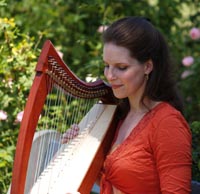 Rebekah Passmore, award winner in both Celtic and Classical harp competitions, is sought out as an ardent performer noted for her ethereal arrangements, spicy touch, and captivating musicality.
Educated throughout North American and Europe with a BM and MM in harp performance, Rebekah performs on a variety of harps not only with International Symphony Orchestras but also for leading Celtic festivals. Her effervescent spirit and passion for fusing ancient Celtic melodies with the alluring harmonies accompanied by her band including cello, flute & percussion, transports audiences to a realm of beauty and inspiration.
Sarah Dinan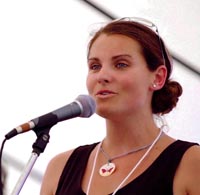 Sarah grew up in an environment filled with music and fell in love with singing at an early age. A woman of remarkable talent, Sarah has a natural aptitude and appreciation for folk music and sings in a variety of styles and languages.
Since launching her solo career in 2003, she has performed with some of Texas' most respected Celtic and Folk musicians and added children's music shows to her regular performance schedule. Sarah's love of music and storytelling is evident in her performance and her clear alto voice is perfect for the lilting songs and haunting ballads she sings. Sarah is joined by Alexis Buffum on fiddle, Dana Martin on guitar and Nick Mitchell on drums and percussion.
Seamus Stout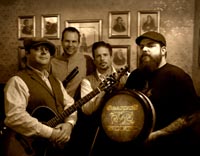 Your pint has never tasted as good as it does with Seamus Stout. This "upbeat Celtic" group has established themselves in the North Texas area over the last 10 years as a crowd favorite at many area festivals and pubs.
With Jan (pronounced "Yon") at Fiddle, Banjo and Mandolin, Jarrod at Whistle and Irish Flute; Billy at Guitar; Damon at Bodhran and all singing, these guys provide a lively set that will keep your toes tapping, your hands clapping and a smile on your face. From the first jig to the last reel, you'll love your pint of Seamus Stout!
Threadneedle Street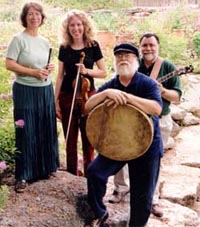 The North Texas-based musicians of Threadneedle St have been together for 20 years, delivering strong traditional instrumental music from all the Celtic nations with a driving pulse that makes it ideal for dancing.
Whistle player Peggy Turner, fiddler Melina Shaffer, percussionist Jim Brunke and guitarist Bobby Bush have appeared at many venues in Texas, Louisiana and Oklahoma and at large national festivals including the Chicago Celtic Festival and the Dublin Irish Festival as well as the North Texas Irish Festival. The band has produced two well-received CDs, Having a Tune and Underground.
Trinity River Whalers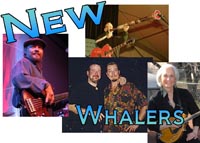 Trinity River Whalers' "wall o' vocals" brings strength to sea songs, rowdiness to pub tunes and moving harmonies to ballads with a blend of instrumentation that makes each song a separate adventure, and leaves no doubt The Whalers are an entire evening's entertainment, not just a set of songs.
The Trinity River Whaler sound rocks with a Celtic heartbeat and the crew includes: singer-songwriter, front-man extraordinaire and former Blarney Brother, Micheal Price, on guitar; Randy Christian who began playing the harmonica, penny whistle, percussion and assorted noises with the Blarney Brothers belts out the rowdy tunes. Marj Troyer's intricate guitar playing, versatile songwriting power-house mandolin playing is an awesome combination, kicking the Whalers' sound up more than just a notch, and when she picks up the electric guitar – look out! Steve Harrison chimes in on lead vocals, harmony, lead and rhythm licks on guitar, bouzouki, banjo and didgeridoo. Rodger Harrison keeps the beat on the electric bass and adds a wide vocal range to the mix with both lead and harmony.